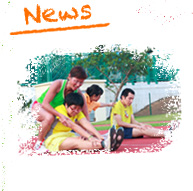 ※Updated Racecourse※

The enrolment for TWGHs – "iRun"- Hong Kong Jockey Club Special Marathon 2017 will start on 19th June, 2017. All the information will send to NGOs, services centres and schools. Following are the information for reference; please check our website for details.

Date: 14th January 2018
Time: 10 a.m.
Race course: Central and Western District Promenade (Central Section) and Lung Wo Road
Venue: Tamar Park

Any queries, please email us at irun@tungwah.org.hk, or call us at 2870 9220.